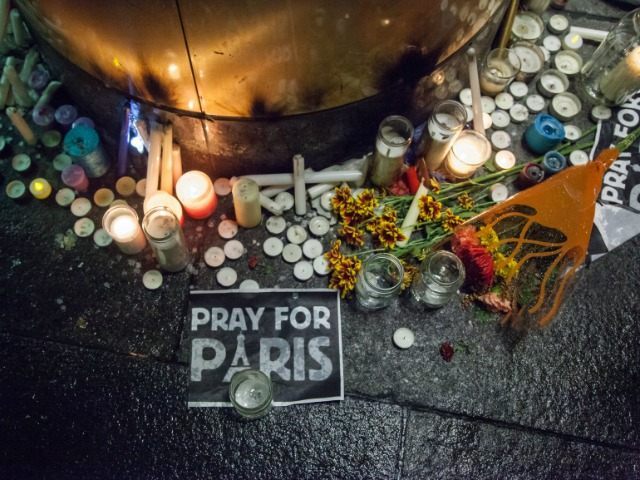 Douglas Murray thinks not. As he argues here and here it will take more than the deaths of a mere 128 people in Paris – and the wounding of many more – to concentrate the minds of our pusillanimous leaders as they seek to persuade us for the umpteenth time that this has "nothing to do with Islam" which is, of course, a "religion of peace."
Brendan O'Neill is similarly bleak.
But they are being far too pessimistic. Over the next hours, days and weeks, we can be confident that the countries of the free West, their political leaders, their media commentators, their celebrities and their "communities" will come up with all manner of important gestures and statements absolutely guaranteed to strike terror into the hearts of Islamists everywhere. Here, based on our experience of previous atrocities from the 7/7 bombings in London to the Charlie Hebdo massacre in Paris, are some of the bold moves we can expect. Some of them are happening already.
People dusting off their schoolboy French, waving Le Tricolor, lighting up the Empire State Building in red, white and blue (see also: candle lit vigils), decorating your Facebook profile with a French flag
When news came through of the Paris atrocities, they danced in the streets of Raqqa. But when they saw the Twitter feeds: ordinary people across the world saying stuff like "Vive la France" and "Liberte, Egalite, Fraternite" (without the acute accents obviously because how do you actually do those on an iPhone?), they realised they could never win. Just like they realised last time when, for all of a month, people declared: "Je suis Charlie Hebdo".
James Taylor
After the Charlie Hebdo massacre, Secretary of State John Kerry brought achingly-sweet-yet-slightly-depressed-sounding hippy crooner James Taylor to Paris as America's peace ambassador. So moved was France's Islamist terror community by Taylor's performance of You Got A Friend that it managed to refrain from killing a single infidel – in Paris at least – for nearly 11 whole months. Imagine then, how much more powerfully effective it will be if, this time round, Kerry comes back not just with Taylor but with the entire membership of the legendary Laurel Canyon folk scene. An inspirational concert featuring Joni Mitchell, Carole King, David Crosby, Steven Stills and any surviving members of the Mamas and Papas with a strong message of Seventies-style peace and love  – perhaps bolstered, for younger Jihadists, by a guest appearance from Mumford and Sons – could well delay further atrocities for as long as a year.
Erudite columnists explaining that Islamism does not represent an "existential threat" to the West
Actually, it's really not such a bad thing when four heavily armed terrorists infiltrate a rock concert packed with 1,500 young people innocently enjoying themselves and then bump them off with shotguns and grenades and finally suicide belts. You see the thing about Islamism, as sundry learned commentators will explain in newspapers and on TV, is that it does not pose the same "existential threat" to the West that, say, Nazi Germany did or Stalin's Soviet Union did. So you see, it's all OK in fact.
Read the rest at Breitbart.