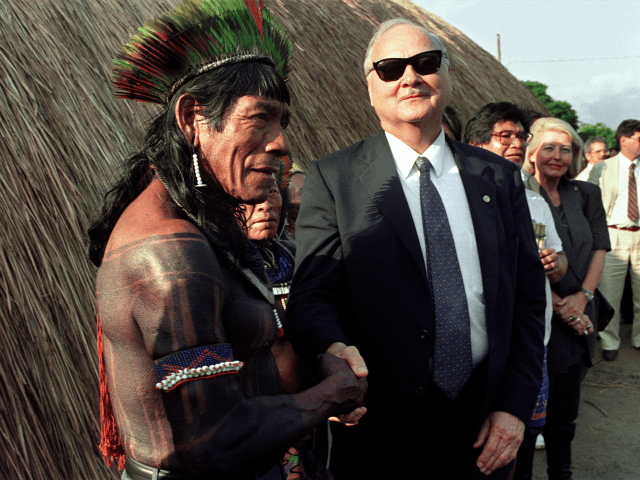 His name was Maurice Strong (picture above, on the right), Canadian billionaire, diplomat and UN apparatchik, and though you may not have heard of him, he probably did more to make your world a more expensive, inconvenient, overregulated, hectored, bullied, lied-to, sclerotic, undemocratic place than anyone post Hitler, Stalin and (his personal friend) Mao.
He's the reason, for example, that most of the world's leaders, 40,000 delegates and their attendant carbon mega-footprint descended here on Paris yesterday in order to talk about magical fairy dust for two weeks and then charge you $1.5 trillion (that's per year, by the way) for the privilege.
He's the reason that "climate change" is now so heavily embedded within our system of global governance that it is now almost literally impossible for any politician or anyone else whose career depends on the state to admit that's it not a problem and to argue that there are more important issues in the world, like maybe the terrorism that killed over 130 innocent people just the other week now, where was it?- oh yeah, here in Paris where for some bizarre reason all the delegates are talking about carbon emissions instead…
He was the father of the mother of all climate summits: the one in Rio in 1992 that spawned a million and one bastard offspring, like the one in Paris now.
He was the main instigator of the blueprint for arguably the most sinister and insidious assault on liberty and free markets: Agenda 21.
If you had met him – if you'd even noticed him – you would have probably quite liked him:
One of the most remarkable things about Strong was how unremarkable he was in person. Somebody once said that you wouldn't pick him out of a crowd of two.
Nevertheless, he was an avuncular and likeable figure, even to those who disagreed strongly with his world view, as I did. I interviewed him numerous times over a 20-year period, and found that he took scarcely-concealed delight in explaining his often Machiavellian political manoeuvrings.
But as I argue in Watermelons – which gave a lot of space to Strong – it's a big mistake to expect that supervillains will always have scars down the side of their face and fluffy white cat on their lap.
Strong's true evil lay in the effects of his acts, not in his (claimed) good intentions.
Then again, the mask did occasionally slip.
Read the rest at Breitbart.