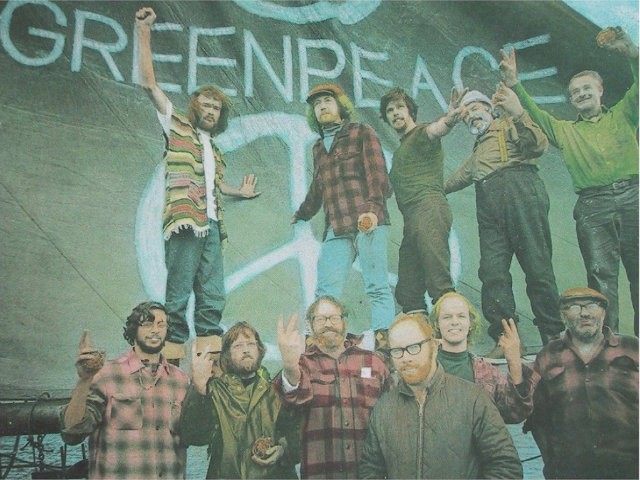 No, not the Green McJob (TM) creation scheme being hosted by the United Nations at Le Bourget for the benefit of 40,000 troughers, kleptocrats, island nation guilt trippers, activists, bureaucrats, apparatchiks, junk-scientists, one world government freaks, environmental lawyers, corporate rent-seekers, teat-suckers and other assorted eco-fascist protozoa.
Rather, I mean the Paris Climate Challenge, a tiny three-day event being hosted in the centre of town by retired Church of England vicar Philip Foster and a tall blogger called Roger 'Tallbloke' for a ragtag group of – at best – 40 climate skeptics.
I was tempted to take a photo of them for this article. But I decided it would play right into the enemy's hands.
Empty chairs and mostly grey-haired men with wild eyes and a mad-professor demeanour: it would have confirmed everything the greenies like to claim about climate "deniers" – that they're old to the point of being senile, eccentric to the point of insanity and so out of touch with reality that no one wants to hear what they want to say anyway.
And you know what? If I were in the unfortunate position of having no scientific arguments left to support my case that's exactly the kind of sad and desperate smear job I'd resort to as well.
Probably, I'd add that "deniers" smell of wee-wee (or poo-poo, if I really wanted to drive the point home); and, if at all possible, I'd try to follow the example of luminaries like President Obama, Bernie Sanders and the Prince of Wales and hint gently that these disgusting people were also kinda, sorta responsible for the Paris massacre and the San Bernardino massacre because by denying the reality of man-made global warming they helped cause the alleged "drought" in the Middle East which drove thousands of law-abiding, peace-loving Muslims straight into the arms of Islamic State.
Luckily for me, though, I'm not in that unfortunate position. Rather I'm on the side of the argument which has pretty much everything going for it: the science, the economics, the moral high ground, the intellectual credibility, the wit, charm and tell-it-like-it-is fearlessness…
But, yes, most of all what we have on my side of the argument are the facts.
There were lots of these at the Paris Climate Challenge conference – the kind of hard, verifiable scientific ones which simply weren't available to the people up the road at the COP21 event.
Facts like:
The lack of observational evidence for "man-made" global warming
The 19-year "pause" in global warming which none of the alarmists' models predicted.
Read the rest at Breitbart.