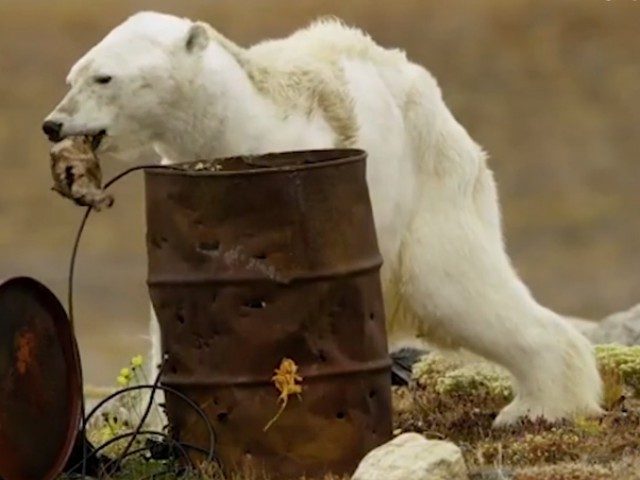 Have you seen the footage of that dying polar bear yet?
It's sad. Very sad. You can see why it has gone viral and been all over the media from the Mail ("soul-crushing footage") to CBC to the Washington Post ("we stood there crying").
It's the kind of sad thing you want to share it with your friends so they can wallow in the same pool of helpless misery you're wallowing in.
For example, that bit where the emaciated bear reaches with his sad paw into that rusting trash can in search of something, anything, to eat. As you watch, you want so desperately to help him….
The footage was filmed on Baffin Island in Canada. Surely, if you or I had been there, we could have found something edible to push that stricken bear's way: maybe a visiting delegation of performance poets, abstract artists and avant-garde musicians who arrived by antique sailing ship on a Rockefeller-Foundation-funded arts project to "raise awareness" of melting icecaps; or a group of Greenpeace activists(aren't bears attracted by strong smells?) on a No To Arctic Drilling protest; or one of the plethora of explorers on another of those deep and meaningful eco-expeditions, sponsored by one of those big reinsurance companies whose business model largely depends on scaring potential clients into thinking global warming is a serious problem.
OK, perhaps I shouldn't be so flippant. Watching a once-mighty beast in its death throes is never a pretty sight.
I'll tell you what's a lot uglier, though: the way that polar bear's death has been completely misrepresented for political ends by the usual suspects in the climate alarmism lobby.
And I'll tell you what's uglier even than that: all the old people – not bears but actual humans – who've died equally miserable deaths in fuel poverty brought about by precisely the kind of environmentalist propagandizing we've seen in the cynical, manipulative promotion of this video.
Read the rest at Breitbart.