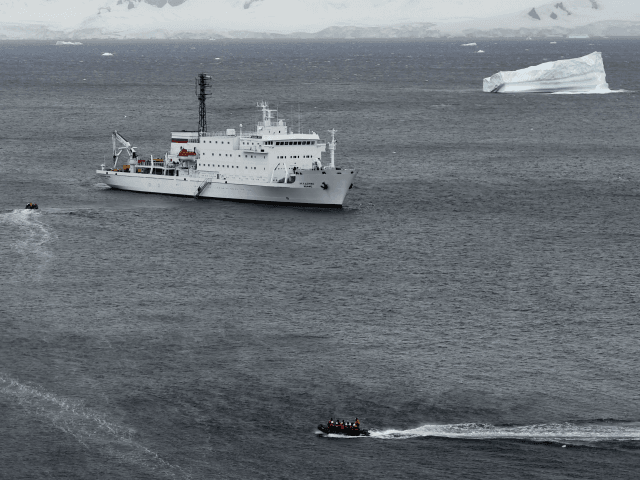 Yet another Arctic expedition to raise awareness of "global warming" has been frustrated by unexpectedly large quantities of ice.
This time the climate chumps were a party of scientists, students and filmmakers from the University of Rhode Island's Inner Space Center (ISC) sponsored – your tax dollar at work – by the U.S. National Science Foundation.
Their mission: "Research to aid understanding of/document climate change effects"  in the Canadian Arctic Archipelago aboard a Russian ship Akademik Ioffe.
But now the ship has been damaged after becoming grounded in the ice and its passengers have had to be rescued.
Anthony Watts has been documenting their sorry progress.
First the early optimism of what sounds very much like another politically correct brainwashing exercise for impressionable students:
A two-hour, ultra-high 4K definition television documentary by the onboard film company David Clark, Inc. will air in 2019.

"It is important for people everywhere on Earth to understand how this region affects all citizens. The region's meltwater, water circulation, and flux of greenhouse gases between the ocean and the atmosphere are impacting wide-scale environmental and climatic changes, including how these changes affect people and wildlife diversity," says NPP principal investigator and project director Gail Scowcroft.

"The project's natural and social scientists will engage a group of university students in hands-on research, as the team addresses important research questions. In addition, diverse audiences will be reached through real-time interactions from sea, a two-hour documentary, and related events. The NPP will provide a visually stunning and historically poignant platform from which diverse audiences will experience this innovative expedition."
Mmm! Can't wait to be joining the "diverse" audiences who get to watch the movie.
But then it all starts to go wrong.
Read the rest at Breitbart.