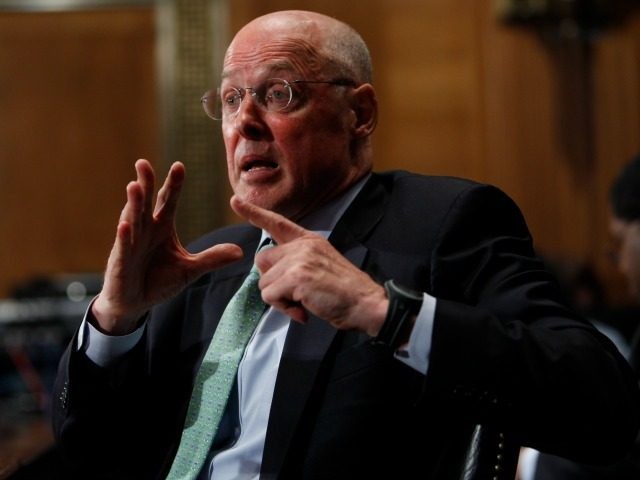 "I screwed up the economy, your jobs and your mortgages so – hey – I'm just the guy you can trust to tell you what to do about climate change!"
That was my take home message of a piece Hank Paulson penned for the New York Times a couple of years ago on the urgent need for a carbon tax.
Two years on – with fellow GOP Establishment stooges James Baker and George Shultz – he's still harping on the same tedious theme.
This copper-bottomed, ocean-going shyster Paulson is the kind of Dubya-period  throwback whose advice the Trump administration should avoid like the plague.
As Treasury Secretary Hank Paulson not only failed to predict the 2008 financial crash – the US economy is "very healthy" and "robust" he insisted in 2007 – but it's quite possible that his encouragement of risky lending while he was at Goldman Sachs helped cause it.
But that's because Paulson is the very embodiment of the liberal elite which both the Brexit vote and the election of Donald Trump were designed to overthrow.
Paulson may notionally identify as a Republican. Or, at least, he served with a "Republican" administration. But what's quite evident from his demands for a carbon tax is that he belongs to that shiftless DC/corporatist/bankster elite which couldn't give two hoots whether it's a Democrat or Republican in charge, just so long as the elite get to maintain their power base and their revenue stream.
Note how, back in 2014 when he was calling for that carbon tax in the New York Times, he boasted about teaming up with Tom Steyer (arch-liberal hedge funder, creator of the NextGen super PAC) and Michael Bloomberg. These men are not conservatives.
What they are is crony capitalists. They are the embodiment of almost everything that America voted against when it voted for Donald Trump.
Read the rest at Breitbart.