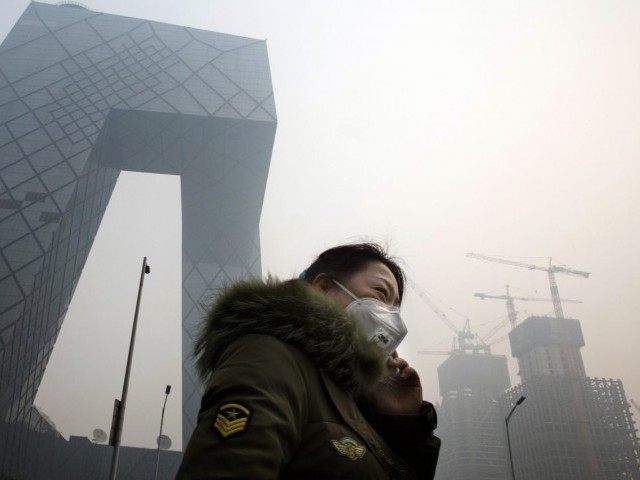 China's CO2 emissions are shooting to the moon.
Several studies released by the Global Carbon Project say worldwide carbon emissions are projected to jump about 2 percent this year after staying flat for three years, according to preliminary estimates.

The culprit, the data show, is China, which has kept its emissions in check in recent years but now shows a massive rise in pollution. Under the Paris pact, China agreed to cap its emissions by 2030, meaning it is still free to increase pollution.

China's uptick this year, after a 1 percent drop in 2015 and flat emissions last year, is largely a result of the country's increased use of fossil fuels.
This is very bad news if you believe in the man-made global warming fairy.
But it's great news if you're Donald Trump. It means that his decision to pull out of the UN Paris Accord is vindicated – and for all the reasons he gave.
Here is the key section from the President's Rose Garden speech in June this year when he announced the U.S. withdrawal.
For example, under the agreement, China will be able to increase these emissions by a staggering number of years — 13.  They can do whatever they want for 13 years.  Not us.  India makes its participation contingent on receiving billions and billions and billions of dollars in foreign aid from developed countries.  There are many other examples.  But the bottom line is that the Paris Accord is very unfair, at the highest level, to the United States.

Further, while the current agreement effectively blocks the development of clean coal in America — which it does, and the mines are starting to open up.  We're having a big opening in two weeks.  Pennsylvania, Ohio, West Virginia, so many places.  A big opening of a brand-new mine.  It's unheard of.  For many, many years, that hasn't happened.  They asked me if I'd go.  I'm going to try.

China will be allowed to build hundreds of additional coal plants.  So we can't build the plants, but they can, according to this agreement.  India will be allowed to double its coal production by 2020.  Think of it:  India can double their coal production.  We're supposed to get rid of ours.  Even Europe is allowed to continue construction of coal plants.
Exactly. The Paris Accord was a bad deal for the U.S.  It would have needlessly handled a huge competitive advantage to economies like India and China, while doing next to nothing – actually, let's be honest, nothing – to combat climate change.
Read the rest at Breitbart.