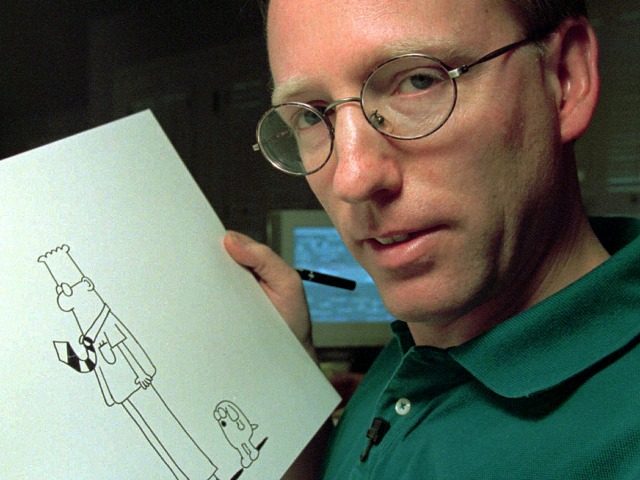 Scott Adams has gone full-on climate denialist in his latest Dilbert strip, causing liberal heads to explode.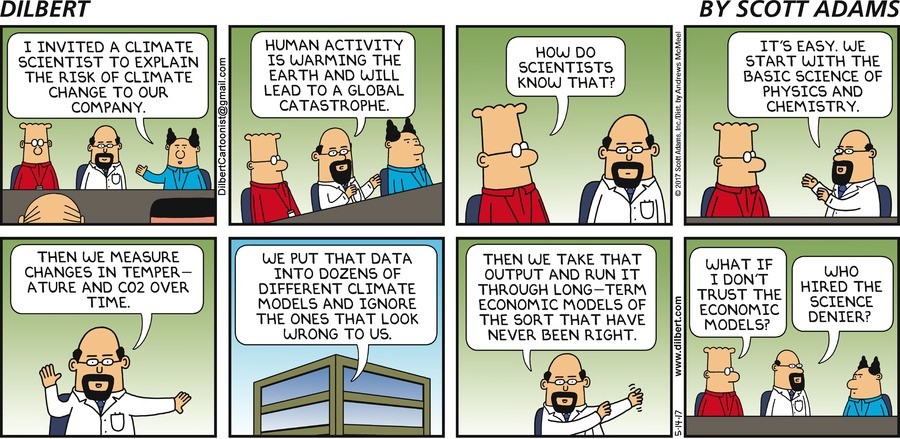 Some of his old fans just aren't happy at this betrayal of The Cause:
it's a shame to see this as I used to think he was very funny. The Way of the Weasel was an awesome book.
it could be dementia – that is a thing that happens to people

On Scott Adams, his comic strip and thought processes have pretty clearly jumped the shark
The man has become a dangerous idiot.
I guess 30-ish years of minor fame and a little bit of pussy took his brain for a ride.
No doubt it is an accident of the pen. But the "climate scientist" in the cartoon bears more than a passing resemblance to Michael Mann, globally renowned inventor of the "Hockey Stick" and winner – or so he used to claim till he got rumbled – of the Nobel Prize.
As Homer would say, this cartoon is funny because it's true. In fact it sums up pretty much everything the layman needs to know about the state of climate "science" and how it abuses the public trust.
So, it starts with truths which are widely accepted – "the basic science of physics and chemistry".
Then – like a street magician or a confidence trickster – it slips quickly from the realm of evident truth into a world of illusion: "We put that data into dozens of different climate models and ignore the ones that look wrong to us."
Anyone who questions this groupthink is labelled a "science denier."
Read the rest at Breitbart.