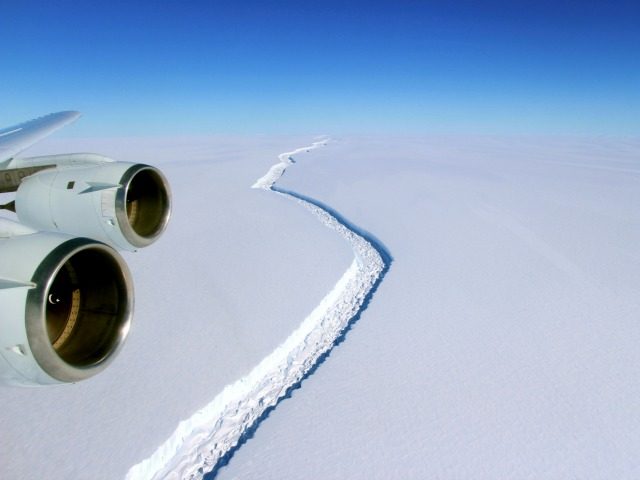 A giant iceberg has broken off the shelf of Antarctica. Naturally, the mainstream media is trying as best it can to hint that this is something serious, worrying and probably connected with "climate change."
First we're invited to marvel at the scale of the iceberg – variously described as "quarter the size of Wales", "twice the size of Luxembourg", "one of the biggest icebergs on record", and "two Luxembourgs, ten Madrids and one Delaware". It weighs – CNN breathlessly tells us – "more than one trillion tons."
This eco-campaigner goes straight for the nearest superlative:
Next, we're told – against all credible evidence – that it might be caused by climate change.
According to CNN's tame expert:
It's clear that global warming, caused largely by burning fossil fuels and agricultural practices, is contributing to the broader destabilization of Antarctica, said Eric Rignot, professor of Earth systems sciences at the University of California, Irvine, and a senior research scientist at NASA's Jet Propulsion Laboratory.

"This break-up signals that the ice shelf got too thin," Rignot said in an email. "It got thinner because climate has been warming, over decades; the ice shelf will eventually collapse in the coming decades. This is absolutely related to climate warming.
The 
New York Times
 goes for the "even though this has nothing to do with global warming, it kinda sorta does really" approach:
Some climate scientists believe the warming in the region was at least in part a consequence of human-caused climate change, while others have disputed that, seeing a large role for natural variability — and noting that icebergs have been breaking away from ice shelves for many millions of years. But the two camps agree that the breakup of ice shelves in the peninsula region may be a preview of what is in store for the main part of Antarctica as the world continues heating up as a result of human activity.
Meanwhile the 
Guardian
 – clearly frustrated that the scientists it consulted refuse to play this game – throws in this random paragraph:
The news of the giant iceberg comes after US president Donald Trump announced that the US will be withdrawing from the 2015 Paris climate accord – an agreement signed by more than 190 countries to tackle global warming. "Truly I am dismayed," said [glacier expert Twyla] Moon of the move.
But as Tony Heller shows in his latest video this all really just climate #fakenews.
Read the rest at Breitbart.