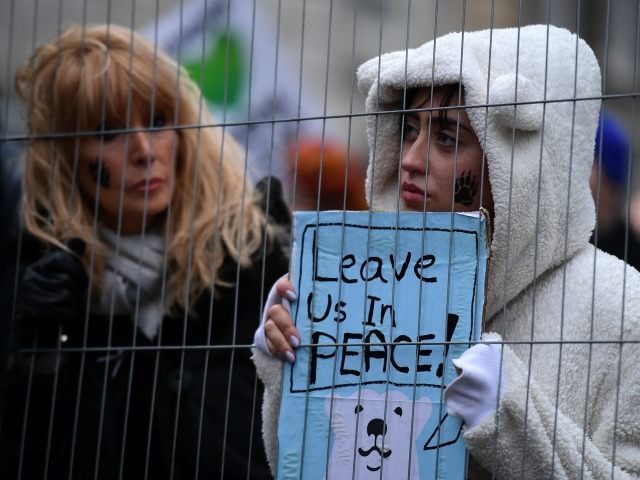 This is ever so sad and in no way to be used by climate skeptics as an excuse to laugh.
As we reported at
Breitbart
last year, Shukla was caught topping up his modest $250,000 GMU professorial salary with fees from his non-profit Institute of Global Environment and Society (IGES). From 2012 to 2014, Shukla and his wife were paid by the IGES $1.5 million for their part time work.
Now Shukla is being investigated by House Science Committee chairman Lamar Smith.
According to [House Science Committee Chairman Lamar Smith]'s letter, the audit "appears to reveal that Dr. Shukla engaged in what is referred to as 'double dipping.' In other words, he received his full salary at GMU, while working full time at IGES and receiving a full salary there."

Mr. Smith cites a memo from the school's internal auditor in claiming that Mr. Shukla appeared to violate the university's policy on outside employment and paid consulting. The professor received $511,410 in combined compensation from the school and IGES in 2014, according to Mr. Smith, "without ever receiving the appropriate permission from GMU officials."
Some cynics are saying that this is precisely the sort of low-down behaviour we have come to expect from the climate scamster fraternity. They point, for example, to identity thieving fraudster Peter Gleick; Rajendra "Dr Octopus" Pachauri (the former IPCC chief recently charged with sexual harrassment); Al Gore (who continues to deny having acted like a "crazed sex poodle" towards some hapless masseuse who'd come to manipulate his whale-like physique); former UK Energy Secretary Chris Huhne (jailed for perjury); former MP and assiduous green trougher Tim Yeo who lost his libel case against a newspaper after the judge found that his evidence was "implausible", "unreliable", "not honest","dishonest", "untruthful", "untrue" and "unworthy of belief"; and, of course, "disgraced, FOI-breaching, email-deleting, scientific-method abusing" Phil "Climategate" Jones of the Climatic Research Unit at the University of Easy Access.
Read the rest at Breitbart.