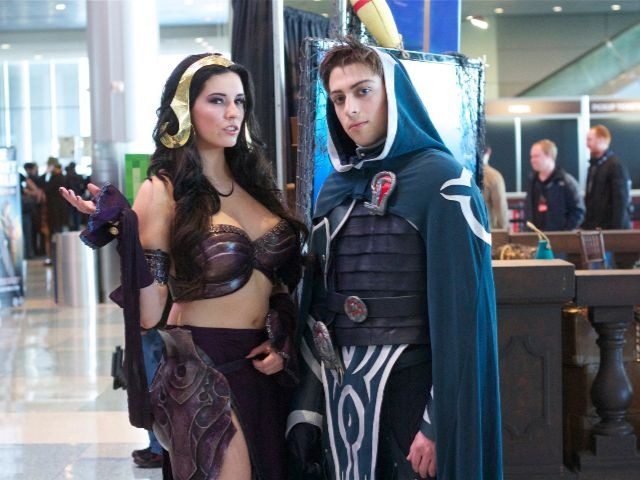 This is the story of Magicgate. Yes, another scandal, but one that for a change doesn't involve any actual rape or sexual harassment… only game players who like pretending to be witches and wizards.
Like Gamergate, it concerns ordinary people who just want to be left alone to enjoy their hobby.
Ranged against these ingenus is an orcish horde of bullying, preening, self-righteous Social Justice Warriors who believe that everything — even an innocent collectible card game like Magic: The Gathering — should be played and policed according to their viciously intolerant politically correct rulebook.
Even if, like me, you're not among the 20 million people who play Magic: The Gathering, what I hope you'll appreciate is that this is a story that should concern us all.
By the end, I hope, you'll feel as angered as I am by this ugly, scary power grab by the regressive left. And I hope you'll want to join me in making your voice heard by hitting the people responsible where it hurts most: in their bank balance.
That means the companies which own and profit by Magic: the Gathering. That means you, Hasbro toys. And you, Wizards of the Coast.
I want you to realize that playing games is not a left-wing thing or a right-wing thing but an everybody thing.
I want you to realize that it is not the business of games manufacturers to discriminate against or punish players for their political opinions.
I want you to realize that your miserable sordid scheme to bully everyone who plays your games into sharing your SJW values is not remotely liberal but authoritarian and fascistic.
I also want you to realize that we have got your number: you try to claim the moral high ground, yet your entire business model is based on the kind of predator capitalism I'm sure you'd be the first to condemn if you weren't getting so rich off of it.
You have a captive market of often vulnerable, socially maladjusted young men for whom your game is their social life, their passion, almost their entire world. And you exploit their addiction mercilessly with regular releases of new card sets, sold in packages costing around $100, which they can't afford not to buy and trade because it will limit their gameplay. OK, fair enough, that's how capitalism works, more or less. Except you're a monopoly provider, so you're abusing your monopolistic power — which for most leftists, and indeed most conservatives is a big no-no. Plus, I understand from Magic: The Gathering players that your product quality is getting worse and worse, with poorly printed artwork, damaged cards inside new packs, or ones that warp shortly after opening. So it really does show some chutzpah, I must say, to rip off your customers and treat them like shit — then to insist that, "Oh, by the way, we reserve the right to tell you scumbags how you must think as well…"
Like Gamergate, Magicgate is a classic example of what Andrew Breitbart meant when he used to say that "politics is downstream from culture." Sure Trump is doing great work, fighting the good fight in the White House. But ultimately whether our civilization thrives or withers depends not so much on what happens in DC or Westminster or Brussels or the United Nations as it does on what happens in the broader culture of our ordinary, daily existence.
Read the rest on Breitbart.