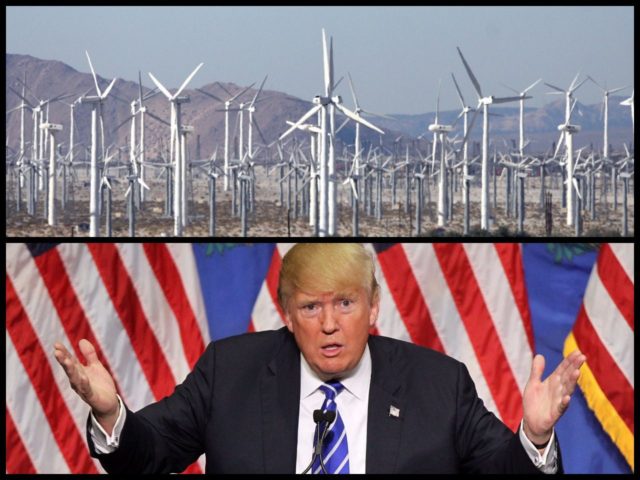 Donald Trump is not a fan of wind turbines, as he has hinted occasionally on Twitter.
But there's a very powerful lobby which would like us to see wind turbines as being clean, eco-friendly and vital for the planet's future. So if President Trump is to crush this bloated, parasitical industry as it deserves he'll need some serious fire support.
This piece by Matt Ridley is a big help. It convincingly demonstrates that wind turbines are even more of a monstrous stupidity than any of us had hitherto imagined.
It starts with a quiz, whose answer may surprise you:
To the nearest whole number, what percentage of the world's energy consumption was supplied by wind power in 2014, the last year for which there are reliable figures? Was it 20 per cent, 10 per cent or 5 per cent? None of the above: it was 0 per cent. That is to say, to the nearest whole number, there is still no wind power on Earth.
Yep. All those views blighted; all that wildlife sliced and diced; all those billions of dollars of subsidies wasted – in order to produce a form of power so inefficient and triflingly irrelevant that it still supplies not much more than 0 per cent of the world's energy consumption.
This isn't something you ever hear from renewables industry lobbyists who would like us to believe that wind is the future:
Nationwide, wind provided 5.6 percent of all electricity produced in 2016, an amount of electricity generation that has more than doubled since 2010. Much of the demand for new wind energy generation in recent years has come from Fortune 500 companies including Home Depot, GM, Walmart and Microsoft that are buying wind energy in large part for its low, stable cost.
But then, so many and varied are the half-truths, distractions and outright lies put out the wind industry that in any other sector half of these reptilian scumbags would be behind bars by now for selling a false prospectus.
Read the rest at Breitbart.