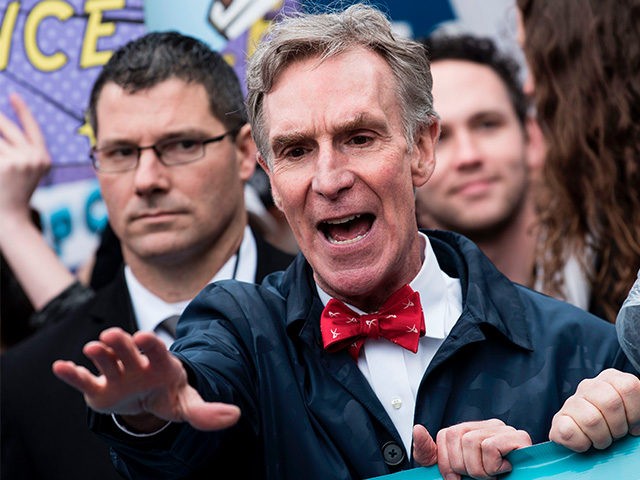 Bill Nye has a new nickname. It's not as snappy as his old one, "the Science Guy," but it's a lot more accurate. Nye wants all the old people to die, preferably sooner rather than later, because they stand in the way of his holy mission to save the planet from climate change.
He told the LA Times:
Climate change deniers, by way of example, are older. It's generational. So we're just going to have to wait for those people to "age out," as they say. "Age out" is a euphemism for "die." But it'll happen, I guarantee you — that'll happen.
Perhaps he could have some help from his zany colleague Marcello Arguello, a stand-up comedian who writes scripts for his Emmy-nominated [lol] show Bill Nye Saves The World.
Arguello apparently shares his enthusiasm for some kind of old peoples' cull, as she recently confided to her friends on Twitter in the wake of the Congressional baseball shootings.
She subsequently deleted the tweet but expressed no regrets for the sentiment.
Elsewhere in his LA Times interview, Nye was given space to rehearse many of his favorite straw men arguments about climate change.
Like the one about climate skepticism being the same as not believing in the moon landings:
Those of you out here who want to deny humans landing on the moon, if you're into that — look at the amount of paper NASA generated. You couldn't afford to fake that much paper! I'm not kidding, you guys. It'd be prohibitively expensive. There's warehouses full of documents, of specifications and drawings and engineering drawings and so on — just that alone would overwhelm you as a faker.
And the one about people who aren't "experts" being incapable of forming an intelligent opinion about climate change:
Read the rest at Breitbart.