Whoever handles Elon Musk's public relations deserves a medal.
The slippery snake oil salesman and rent-seeker extraordinaire has been down to South Australia – now reduced, pretty much, to a third world state under its disastrous left-wing administration – and conned the hapless locals out of $50 million to build them an all-but-useless giant battery to make up for the energy they have lost by blowing up their coal-fired power station and relying on wind power instead.
And how are the lickspittle media reporting this outrageous scam?
Why, thus:
Tesla Fulfilled Its 100-Day Australia Battery Bet. What's That Mean for the Industry?
and thus:
Elon Musk wins bet, finishing massive battery installation in 100 days
and thus:
and thus: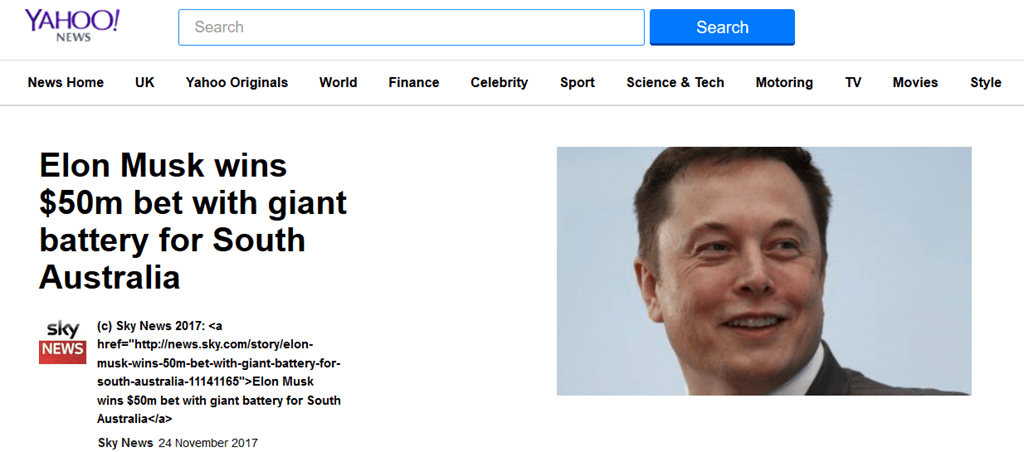 Incredible $50 MILLION bet between Elon Musk and Australian Atlassian tech king pays off with Tesla building a giant solar battery in Adelaide
With a media as compliant and unquestioning as this, is it any wonder Tesla's price is still about $300 higher than it should be and that governments continue to spend taxpayers' billions bankrolling his quixotic schemes?
Let's just have a quick reality check here, shall we?
Obvious Truth #1. This "bet" is #fakenews.
Read the rest at Breitbart.