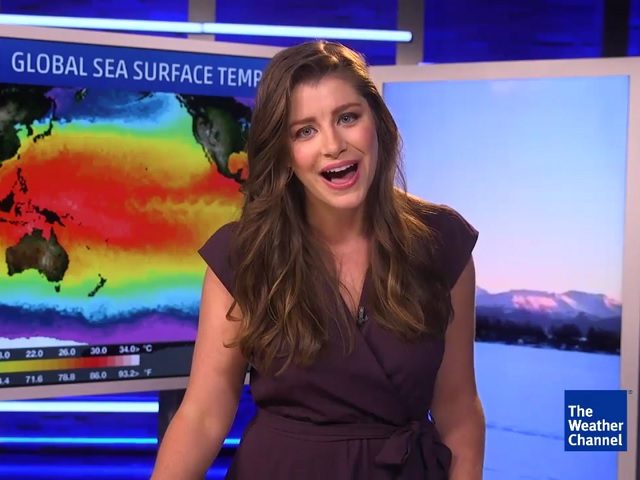 The pretty girl in question is Kait Parker of the Weather Channel, who has rashly stepped into the lists on behalf of her employer with a video and article titled Note to Breitbart: Earth Is Not Cooling, Climate Change Is Real and Please Stop Using Our Video to Mislead Americans.
Well, it certainly makes a nice change from the usual tired old tricks deployed by the alarmist establishment — the ad hominem, the Appeal to Authority, etc. And it seems to have been quite effective, too: for a while yesterday, Weather Girl Kait's attack was the number one item on Reddit, and I've received several tweets from impressionable SJW types brimming with righteous indignation at my climate-denying ignorance. Also, I know that several other organisations — including AOL — are keen to join Parker in sticking the boot in. This I find very flattering, because when the liberal media joins forces to try to humiliate you, it means they consider you a very powerful threat.
But I do wish Kait hadn't got involved, for I fear I'm going to have to be very ungallant by revealing her entire argument to be fatally flawed.
First, a basic point of information. Parker expresses outrage that an irrelevant video about La Niña "with my face in it" was taken from the Weather Channel and used by Breitbart to illustrate an article I wrote called Global Temperatures Plunge. Icy Silence From the Climate Alarmists.
Here's our Editor-in-chief Alexander Marlow, putting that detail right: "This is not a Breitbart video. It's provided by and placed by a third party video vendor. The Weather Channel should chill out." More precisely, none of Breitbart's editors made the choice or performed the action of sticking the Weather Channel's video on the article.
And yes, indeed, the Weather Channel should chill. And, better still, stick to its day job and actually report on the weather rather than engaging in agenda-driven politics. This is an argument the Weather Channel is not going to win, and whoever put poor Kait Parker up to this ridiculous, embarrassing stunt should be ashamed of themselves. It is going to backfire horribly, as I'm about to demonstrate.
Before we move onto the threadbare science in Parker's arguments, let's just first marvel at the way she has tried to blame Breitbart for something it did not do.
Parker claims:
Global warming is not expected to end anytime soon, despite what Breitbart.com wrote in an article published last week.

Though we would prefer to focus on our usual coverage of weather and climate science, in this case we felt it important to add our two cents — especially because a video clip from weather.com (La Niña in Pacific Affects Weather in New England) was prominently featured at the top of the Breitbart article. Breitbart had the legal right to use this clip as part of a content-sharing agreement with another company, but there should be no assumption that The Weather Company endorses the article associated with it.
And her point is what, exactly? As she herself admits here, "Breitbart had the legal right to use this clip as part of a content-sharing agreement with another company." So she understands the deal: it wasn't Breitbart's conscious decision to use that particular video. Rather, the video was put up there by a third party with a view to promoting the work of the Weather Channel by bringing it in front of a wider audience.
If the Weather Channel doesn't want access to Breitbart's 45 million global readership, then that is the Weather Channel's loss, not Breitbart's. Perhaps it fancies being the meteorological equivalent of Kellogg's. Well, good luck with that.
Even more bizarre is Parker's accusation that her clip is being used by Breitbart to "mislead Americans." How exactly? The clip, as it happens, shows Parker talking about how the cyclical Pacific Ocean event known as La Niña is going to result in a colder-than-usual weather in the US  — "in the North East you might get more of that cold air all the way through spring."
So she's actually agreeing with what Breitbart said in the article: that La Niña effect has been causing temperatures to drop dramatically. Apparently, in Parker's view, it's OK when meteorologists who believe in "global warming" say this stuff. But it's not OK when a sceptical website like Breitbart says it.
Read the rest at Breitbart.