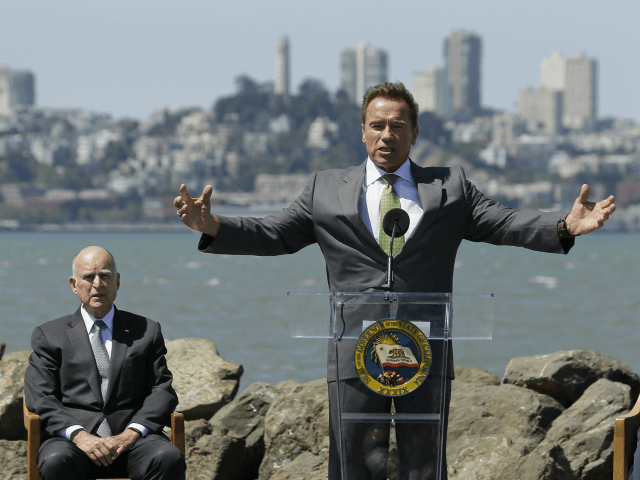 Environmental activists should stop talking about global warming because no one cares. Instead they should talk about stuff that tugs at the heart strings, like cancer, kids with asthma, and "25,000 people dying every day from pollution."
This is what Arnold Schwarzenegger told a meeting at the UN's climate conference in Bonn, Germany.
He said: "People do not focus as much on 2 degrees energy increases in temperatures or increases in sea levels rising."

Schwarzenegger thinks calling attention to concrete issues, like "so many people having problems with cancer and kids with asthma," is a better approach.
And in propaganda terms, he is absolutely right. In fact, Arnie displays such an excellent understanding of the black arts here, he could almost be channelling his most infamous former compatriot, Adolf Hitler.
In Mein Kampf – which Arnie's old Nazi dad must surely have encouraged him to read, when the young future Terminator wasn't too busy pumping iron or frolicking around the Alpine meadows, herding goats, yodelling Edelweiss and playing with his enormous Alpenhorn – Hitler stresses the importance of the große Lüge: the Big Lie.
"Don't waste time on the little lies," Hitler advised [I paraphrase loosely]. "Instead, tell a whopper so huge that nobody would ever imagine you could have had the audacity to make it up."
Schwarzenegger's "25,000 people dying every day from pollution" would have done the Fuhrer proud!
Read the rest at Breitbart.