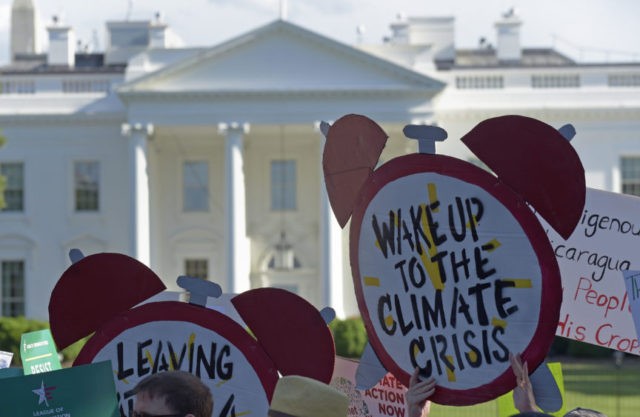 Slowly but surely the Trump administration is draining the climate swamp.
Here's the latest good news, courtesy of American Geophysical Union's Eos, in a pieceheadlined "Prestigious Climate-Related Fellowships Rescinded."
It reports on the reduction (by half) of National Oceanic and Atmospheric Administration's (NOAA) "prestigious" Climate and Global Change Postdoctoral Fellowship Program — or what I would call a madrasa for climate change alarmists.
Since 1992, at a cost of around $2 million per annum, the program has sponsored eight fellows a year in order "to help create the next generation of researchers needed for climate studies."
The graduates' list is a veritable Who's Who of prominent climate alarmists.
Among the program's alumni is Myles Allen, a man-made climate change specialist at Oxford University; Gavin Schmidt, now head of the notoriously climate alarmist NASA Goddard Institute of Space Studies; and Heidi Cullen, who writes alarmist propaganda for the website Climate Central.
Not all alumni, it's true, go on to shill for the great global warming scam.
For example, one alumnus — Chris Landsea, a meteorologist specializing in hurricanes — took the brave and principled decision of resigning in 2005 from the Intergovernmental Panel on Climate Change's (IPCC) Fourth Assessment Report. Landsea objected to the way his views were being misrepresented by one of the report's lead authors, Kevin Trenberth.
Trenberth wanted to promote the idea that "global warming" (as it was then known) would lead to an increase in intense hurricane activity.
Landsea was outraged because this contradicted all available scientific studies, including his own. So he resigned in protest, no doubt costing himself a well-paid career on the climate change gravy train.
But Landsea is almost certainly the exception rather than the rule.
Read the rest at Breitbart.