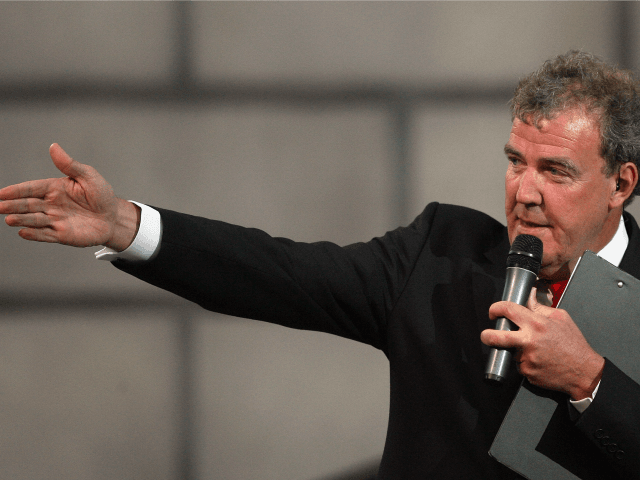 Jeremy Clarkson has just lopped off his privates in public.
It wasn't an edifying sight.
I'm trying to think of an analogy that captures the enormity of what Clarkson has just done. In terms of sheer cringeworthiness, I suppose it would be that sick but oddly compelling documentary I saw the other night called Dan's 80lb Testicle, about a man with an unfeasibly large growth on his undercarriage which he had to lumber round the streets of LA using an upside down hoodie.
In terms of pusillanimity, it would be something along the lines of Sir Francis Drake on the bowling green at Plymouth looking down at the Spanish Armada and saying: "You know what, me hearties? Let's get in our ships, sharpish, and sail off somewhere nice and safe, like the other side of the world. It's plain as a pikestaff that England is lost."
In terms of nauseating, oleaginous, social climbing disgustingness it's like Uriah Heep on his knees ever so 'umbly presenting a BBC tribute to the late Princess of Wales, filmed at Althorp with  hour long interviews with Earl Spencer and Tony Blair with songs by Sir Elton John performed by the children of Great Ormond Street Children's Hospital, entitled "Still Queen of All our Hearts." On Brown Nose Day.
Really, though, there is no metaphor or image or simile on earth quite dramatic enough to capture the shaming spinelessness, the platitudinous vapidity, the intellectual feebleness, the surrender-the-pass cowardliness of the piece Clarkson wrote yesterday in the Sunday Times "explaining" why, all things considered, he thinks it's a good idea for Britain to remain in the European Union.
Here is an extract to give you a taste.
Whether I'm sitting in a railway concourse in Brussels or pottering down the canals of southwestern France or hurtling along a motorway in Croatia, I feel way more at home than I do when I'm trying to get something to eat in Dallas or Sacramento. I love Europe, and to me that's important.

I'm the first to acknowledge that so far the EU hasn't really worked. We still don't have standardised electrical sockets, and every member state is still out for itself, not the common good. This is the sort of thing that causes many people to think, "Well, let's just leave and look after ourselves in future."

I get that. I really do. And after I'd watched Hannan's speech, that's briefly how I felt too. But, actually, isn't it better to stay in and try to make the damn thing work properly? To create a United States of Europe that functions as well as the United States of America? With one army and one currency and one unifying set of values?
So Jeremy Clarkson's arguments for Britain remaining in the European Union boil down to two things.
Read the rest at Breitbart.