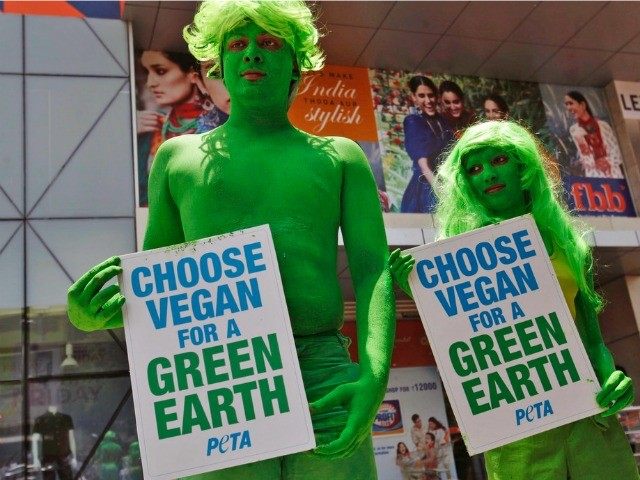 Today, as you're all probably aware, is World Vegan Day. But have you stopped to think what that actually means?
It means that are millions of people all around the world — 7.5 million of them in the U.S. alone, apparently — who have not had access to a decent pair of leather shoes or a fat juicy burger or a honey sandwich for weeks. Sometimes months. Or, even, in the case of the ones who had really weird parents, their whole lives!
We mustn't laugh. It's serious. A permanent diet of vegetables — especially if they're organic ones — can be fatal, as was demonstrated four years ago in Germany when no fewer than 50 people were wiped out by deadly cucumbers. 
Veganism, we also know, can cause terrible side-effects. Just look at this video and see what a vegan diet has done to this poor couple's skin, the man's especially. It also appears to have damaged their capacity for reason. Though the song is all about how much they love cows it has completely passed them by that if everyone went vegan cows just wouldn't exist. There'd be no point. Cows are only there to make milk and breed more steak. They're far too dangerous to be left standing around in fields for no reason: ask any dog walker.
Also, it is a known fact that a meat-free diet damages the receptors in the brain responsible for creating and understanding jokes. Here's an example of the problem I mean. I once went to the Christmas revue in Broadmoor high security prison for the criminally insane. There was a lot more lightness of touch and wit than there was in that PETA video.
What I'm saying is that these vegans badly need our help. And I want you to think of me as your Benedict Cumberbatch, coming out on stage after my probably overrated performance as Hamlet to bludgeon you with my celebrity, shock you with my swearing and embarrass you with my donations bucket into giving generously to what I passionately believe is the single most worthwhile cause you're going to hear about today: help me help the vegans escape from their living hell.
Read the rest at Breitbart.