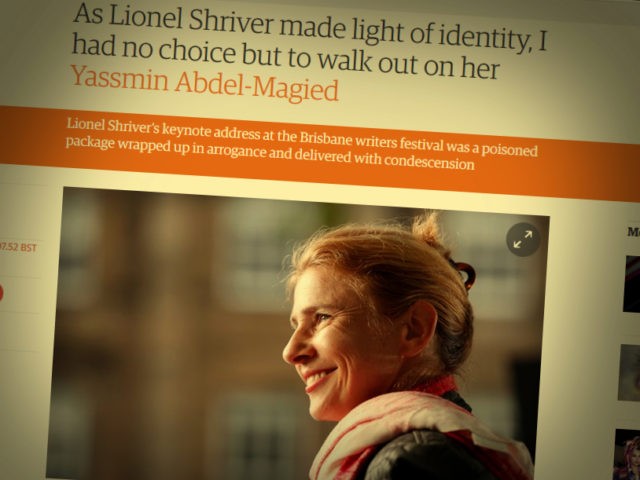 When I first tweeted about this atrocity last week many readers followed my link in disbelief that any article – even one written by a hijab-wearing Sudanese-Australian special snowflake activist, published in the "Komment Macht Frei" section of the Guardian – could really be quite as bad as I claimed.
But then they read it. Some even got as far as the bit where Yasmin writes…
The stench of privilege hung heavy in the air, and I was reminded of my "place" in the world.
…and finally they realised that I had not lied. Many subsequently retired to their studies with a bottle of whisky and a pistol, having recognised that a world where someone like Abdel-Magied gets taken seriously enough to have her views published in a national newspaper (and get featured on a TED talk, with over 1.6 million views) is no longer a world worth inhabiting.
Yasmin's article – which I strongly recommend you don't read: it's the newspaper equivalent of the cursed videotape in The Ring – is a prolonged, victim-y whine about the horrors of cultural appropriation, prompted by her experiences at an Australian literary festival in which she objected to a talk by the US-born novelist Lionel Shriver.
Shriver, author of We Need To Talk About Kevin, is not impressed by Generation Snowflake's obsession with cultural appropriation. Though she didn't actually wear a sombrero on this occasion (she has in the past), she found plenty of opportunities in her keynote speech at Brisbane Writers' Festival to mock the ludicrous SJW fad.
So far, the majority of these farcical cases of "appropriation" have concentrated on fashion, dance, and music: At the American Music Awards 2013, Katy Perry got it in the neck for dressing like a geisha. According to the Arab-American writer Randa Jarrar, for someone like me to practice belly dancing is "white appropriation of Eastern dance," while according to the Daily Beast Iggy Azalea committed "cultural crimes" by imitating African rap and speaking in a "blaccent."

The felony of cultural sticky fingers even extends to exercise: at the University of Ottawa in Canada, a yoga teacher was shamed into suspending her class, "because yoga originally comes from India." She offered to re-title the course, "Mindful Stretching." And get this: the purism has also reached the world of food. Supported by no less than Lena Dunham, students at Oberlin College in Ohio have protested "culturally appropriated food" like sushi in their dining hall (lucky cusses— in my day, we never had sushi in our dining hall), whose inauthenticity is "insensitive" to the Japanese.
Among those in Shriver's audience was Abdel-Magied, though it's possible she didn't hear this bit because half way through she found herself so horribly triggered by the whole experience that she felt compelled to walk out. And then to write an essay about her trauma, which the Guardian duly published.