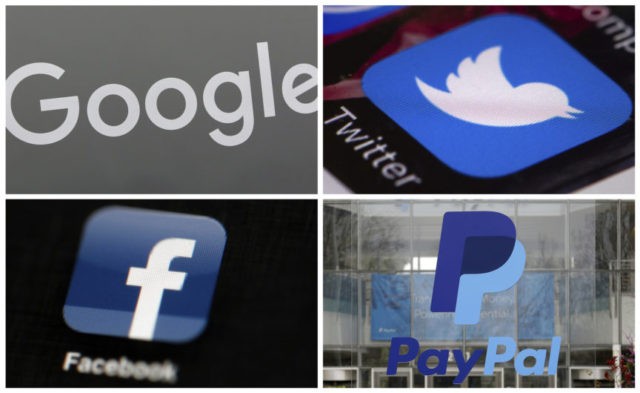 The thing that puts me off libertarianism is the "more libertarian than thou" game so many libertarians like to play.
"What? You mean you don't believe that enterprising heroin dealers should be free to ply their wares in kindergartens so as to catch 'em while they're young? You're not a real libertarian. You're a fascist control freak…"
All right, I exaggerate. But the latest libertarian test is very real – and is the subject of a big falling out between two National Review writers Victor Davis Hanson and Kevin Williamson.
See where you stand.
a) Facebook, Google, Twitter etc are the equivalent of 19th Century robber baron monopolies ripe for breaking up under Anti-Trust regulation because of their overmighty power and their iniquitous war on free speech and their outrageous bias against conservatives.
b) What are you saying, man? Don't you see, this is, like, a violation of everything we libertarians believe in? You can't – Pass me that joint, will you? You're bogarting it. Yes you are – where was I? Oh yeah, look, it's like this: if you're gonna complain about Christian bakeries being prosecuted for refusing to bake gay cakes because of they violate their religious principles, you're just being hypocritical complaining when YouTube puts restrictions on PragerU videos because they violate their liberal principles. Either you believe in free markets or you don't.
If you're a) you're with Victor Davis Hanson who outlines his case here.
If you're b) you're with Kevin Williamson, who has now unfathomably accepted the King's Shilling to take on the job of house libertarian at that famous bastion of free speech, liberty and alternative viewpoints The Atlantic.
Read the rest at Breitbart.