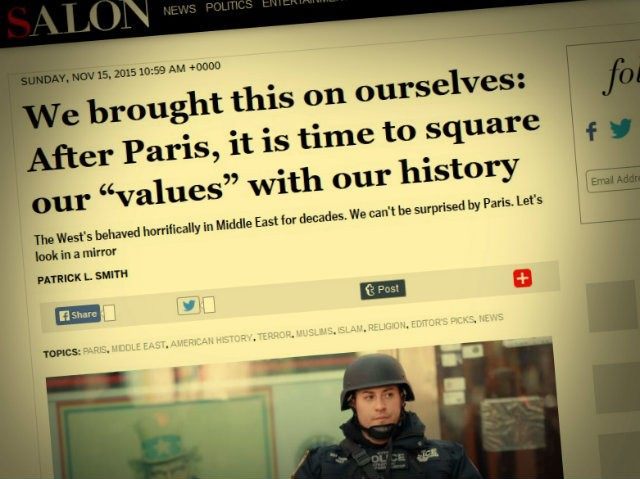 This time the preening apologist for terror is one Patrick L Smith, Salon's "foreign affairs columnist" and a "longtime correspondent abroad, chiefly for the International Herald Tribune and The New Yorker" as well as "an essayist, critic and editor".
His piece is headlined:
We brought this on ourselves: After Paris, it is time to square our "values" with our history
The West's behaved horrifically in Middle East for decades. We can't be surprised by Paris. Let's look in a mirror
Smith has certainly stared long and hard into the mirror. And it's clear he's infatuated with what he sees.
You can tell from the (cackhanded attempt at) grandiloquence of his opening sentence:
Another horrific attack emanates from the shattered, shredded Middle East into the beating hearts of Western civilization.
And from priceless passages like this:
"Is this a September 11 for the French?" my other half asked as we watched the news last night. "Let there be no question," I replied.
Yep, because it's all about you, isn't it, Patrick? You're kind of like Gore Vidal would have been had been wiser, better connected and more fantastically opinionated and pleased with himself.
Read the rest at Breitbart.