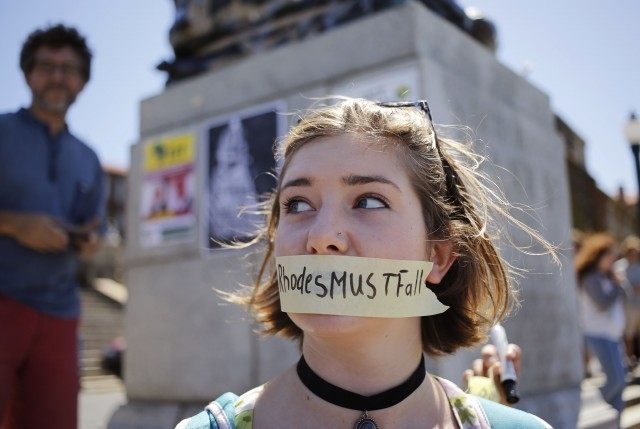 Donors were so furious at Oriel College's cowardice in the face of this student activism that they threatened to withdraw millions of pounds in bequests.
Right decision; wrong reason.
The Oriel College authorities could have said no to #RhodesMustFall because it was orchestrated by a bunch of chippy, ungrateful, politically correct, spoilt, vexatious, posturing bullies with connections to some of the most viciously unpleasant elements in the cess pool of South African politics.
They could have argued that Cecil Rhodes was a man of his time and that it's quite ludicrous to judge a hero of the Great Imperial Age by the standards of the age of safe spaces, "Islamophobia" and Caitlyn Jenner.
They could have stood up for the principle that students may come and go but the fabric of the University and the generosity of its benefactors must remain inviolate from wanky posturing by early twentysomethings whose frontal lobes haven't been properly formed.
Instead, though, Oriel College's decision was motivated not by high principle but by terror and desperation at losing so much money.
At a meeting on Wednesday the governing body was told that because of its ambiguous position on the removal of the statue, "at least one major donation of £500,000" that was expected this year has been cancelled.

One of those who has already cancelled their legacy was going to leave a "seven figure sum" and the college is aware that "another major donor is furious with the College… whose legacy could be in excess of £100m".

The report warns that there will now "almost certainly" be "one or two redundancies" in its Development Office team because of the collapse in donations. And it has cancelled an annual fundraising drive that should have taken place in April. The report also warns that Oriel's development office could now make an operating loss of around £200,000 this year.

In addition, a "potential £750,000 donor" has stopped responding to messages from the college, and several alumni have written to Oriel to say "they are disinheriting the college from their wills".
This may be a case of shutting the stable door after the horse has bolted. Certainly the man responsible for fundraising at Oriel isn't mincing his words about the damage that has already been done.
Read the rest at Breitbart.