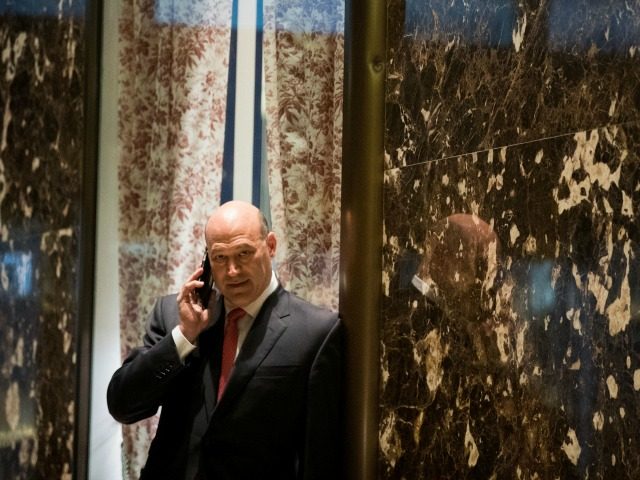 "If he were standing here, he would tell you that he feels much more knowledgable on the topic today," said Trump's economic advisor Gary Cohn, referring to the president's position on climate change and the Paris agreement.
Well if that's the case, it's certainly no thanks to Cohn – whose advice on these matters is about as sound, reliable and unbiased as that provided by Grima Wormtongue – slippery henchman of the evil wizard Saruman – to King Theoden in Lord of the Rings.
Cohn wants Trump to keep the U.S. in the Paris climate agreement. Of course, he does. As an ex-Goldman Sachs man Cohn is a fully paid up member of the $1.5 trillion-a-year Climate Industrial Complex. It was Goldman Sachs – along with Enron – which pioneered the carbon trading schemes that helped enrich enviro-troughers like Al Gore. If the global warming Ponzi scheme ever collapses – and it will – then many of Cohn's friends and former clients stand to lose millions in crony-capitalist "investments" currently propped up by Obama-era regulation which Cohn and his cronies are desperate to keep in place.
This also explains Cohn's extraordinary recent attack on the coal industry – "coal doesn't even make that much sense anymore as a feedstock" – and his risibly dishonest claim that solar and wind power can help the U.S. become "a manufacturing powerhouse."
It's extraordinary firstly because it is in direct and explicit contradiction of Trump's election trail promises to bring back jobs in the coal industry.
And it's extraordinary secondly because it is in direct contradiction of observable reality, viz: there is no economic case for wind (or solar) – inefficient, expensive energy which is heavily reliant on taxpayer subsidy. For Trump's Economic Advisor (!) to claim otherwise is at best irresponsibly misleading, at worst a flat-out lie.
Read the rest at Breitbart.