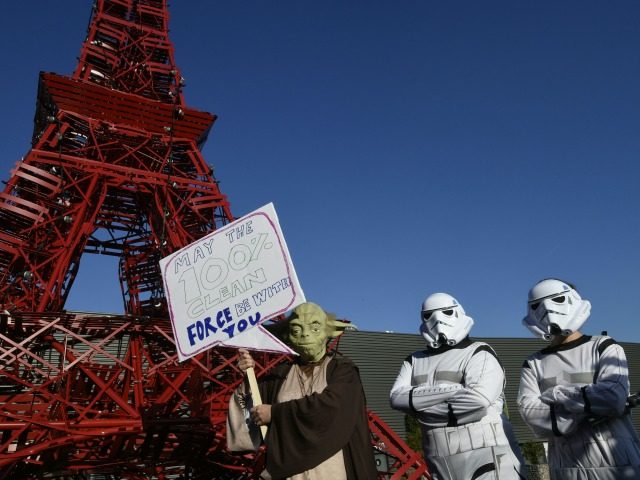 So NOAA deliberately fiddled the climate data to hide the "pause" in global warming in time for the UN's COP21 Paris talks.
Really, this whistleblowing revelation couldn't have come at a better time for Donald Trump.
In the field of energy and climate, President Trump has said that there is a massive swamp that needs draining.
But his efforts are being resisted at every turn by all those lying scientists, bent politicians, rent-seeking businessmen, and Soros-funded activist groups who  insist: "What swamp? What crocodiles? What leeches? Nothing to see here!"
What the whistleblowing NOAA insider John Bates has just done is prove beyond reasonable doubt what some of us have long claimed: that from NASA GISS and NOAA across the pond to the UEA and the Met Office's Hadley Centre, the world's leading temperature data sets have been hijacked by climate activists and abused to advance a political agenda.
Here at Breitbart we smelt a rat from the moment NOAA released its dodgy, "Pause-busting" study two years ago.
As we reported, with perhaps a hint of snark, in "'Hide the Hiatus!'. How the Climate Alarmists Eliminated The Inconvenient Pause In Global Warming" the paper seemed to have been produced by two alarmist shills at NOAA – Tom Karl and Thomas Peterson – with the express purpose of confounding sceptics in the run up to Paris.
The thrust of Karl's paper is this: that far from staying flat since 1998, global temperatures have carried on rising. It's just that scientists haven't noticed before because they've been looking in the wrong place – on land, rather than in the sea where all the real heat action is happening. And how did Karl et al. notice what everyone else has missed until now? Well, by using a specialised scientific technique called "getting your excuses in early before the Paris climate conference in December." Essentially, this technique involves making adjustments to the raw temperature data (sound familiar?) and discovering – lo! – that the sceptics were wrong and the alarmists were right all along. Karl's paper makes much of the fact that the methods used for gathering sea temperature data have changed over the years: in the old days it used to involve buckets; more recently, engine intake thermometers. Hence his excuse for these magical "adjustments". Apparently (amazingly, conveniently), the measurements used since 1998 have been "running cold" and therefore needed correcting in a (handy) upward direction in order to show what has really been happening to global warming. Once you realise this – global warming turns out to be as real and present and dangerous as ever it was.
In October 2015, we followed up with a story headlined: "NOAA Attempts To Hide The Pause In Global Warming: The Most Disgraceful Cover Up Since Climategate."
This reported on how NOAA had refused to give up its documents in response to a subpoena by Rep Lamar Smith (R-Texas) who also smelt a rat – and just needed some raw data to prove it.
Read the rest at Breitbart.